Grout and Tile Ceramic Marker Pen
Are you having dirty and ugly tiles? Are the tiles getting moldy?
You can make your bathroom tile mortar look brand new by applying this Grout & Tile Ceramic Marker Pen!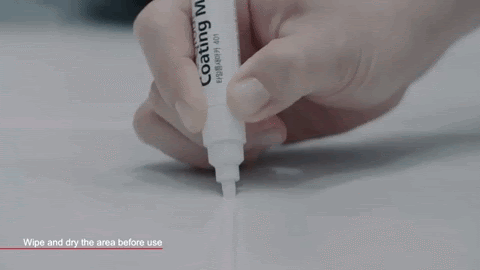 The ceramic pen is suitable for embellishing material gaps, renewing material gaps, and mold. 

It is waterproof and moisture-proof with strong coverage and its ink is non-toxic and safe. With the wide application, it can meet different ceramic tile crack repair requirements. 
FREQUENTLY ASKED QUESTIONS
Question 1: How much area does 1 pen cover?
Answer: It all depends on how many layers you apply, I did 3. I have used 4 pens for my kitchen which is roughly 12 by 18ft. However, results vary as the porosity of grouts can vary greatly. Hope this helps.

Question 2: Can this be used over painted/sealed grout?
Answer: Yes I did that exact thing and it looks great.

Question3: Is this product waterproof or will it wash away if I apply it to the shower floor tiles?
Answer: Yes, it is waterproof
EASY TO USE:
Clean and dry the seam of the tile before using it.
Shake the mortar pen.
Then draw the lines of mortar.
Clean up any excess dye from the part.
PACKAGE INCLUDES:
1 x Grout & Tile Ceramic Marker Pen